Continuous development and improvement of our products – these goals have been set for ourselves since 2014, when the BIB Poland company was founded. We are a well-known and respected brand on the Polish market, and we successfully compete on global markets. Our packaging is now delivered to 35 countries, and the delivery time ratio is 96%. Every year more and more companies place their trust in us.
The beginnings of our activity were related to Andrychów, but it quickly turned out that we needed a more efficient production plant, which would enable us to develop more dynamically. We chose the Economic Activity Zone in Zator.
We produce Bag in Box, flexible barrier packaging and aseptic bags. We provide ready-made solutions as well as custom-made bags. We attach great importance to the quality of raw materials and the way our products are made. Thanks to this, they meet all the standards of the European Union. We have efficient production lines, modern warehouses and a dynamically working Research and Development Center, which allows us to meet the requirements of a constantly developing market.

An individual approach to the client is an inseparable element of our business activities. By listening to their needs and using our extensive experience, we can create products that are perfect for everyday use. Combined with our extensive production facilities, this makes us a world-class team for creating innovative packaging solutions. Our team includes the best specialists who, thanks to their knowledge and commitment, create value that meets the highest expectations of the market. The implementation of the idea of continuous development is guaranteed by an effectively executed financial plan.

In many aspects, we introduce our own, innovative solutions, not only adapting to changes on the market, but also going ahead. We participate in the life of the industry by taking part in international fairs. Such meetings allow us to better understand customer needs and gain valuable business contacts. We continue to develop and constantly expand our horizons. We want to constantly create new solutions and be where our products are needed. Our goal is to build a durable and solid team, composed of the best specialists, in order to create the best products for our clients.

We care about the highest quality of customer service. We handle new inquiries within 24 hours, and each client is assigned an individual sales representative. Thanks to this, we can propose an offer perfectly matched to your needs.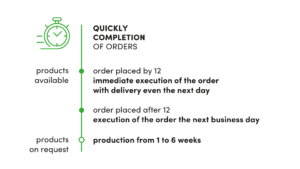 We send our goods to every region of Europe and the world. We successfully cooperate with clients on the other side of the globe. Due to the fact that the transport takes place mainly outside Poland, we also take over customs issues, providing offices with all the necessary documents.